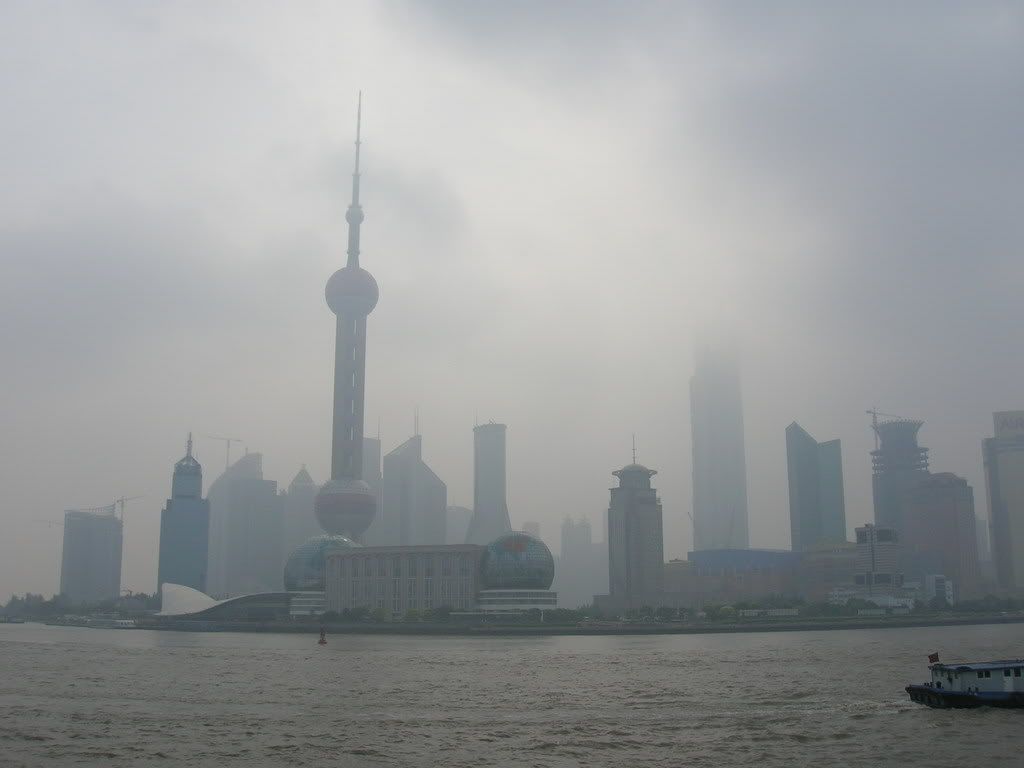 Now, you may be wondering why their is a picture of a smoggy and polluted Chinese city under a post about "Rinsing Tea". Well, as we all know, many teas are grown in china. From the plethora of Chinese green teas to the expensive and aged pu'erhs, there are a whole lot of Chinese tea.
With the Olympics in China being pretty soon, I have started to hear a lot about all the pollution in China. Things about acid rain and dust just settling all over the streets.
The uncleanliness of China (due to all the factories, and other factors) has made me think about whether my Chinese tea is clean. Some Chinese teas are laid in the sun while the oxidation process occurs, and it is easily possible for dust dirt etc. to settle on them.
I have never heard of anyone getting sick or something like that from their tea leaves, but I don't think it would be a bad idea to rinse your tea leaves in water before actually using them to brew your cup of tea. Besides the pollution factor, just thinking about how many times tea may change hands before one buys it really makes me think that washing / rinsing tea is a good idea. I mean, what if a worker in a tea store spills some tea on the ground; he might just pick up the leaves with his hands and put it back in the tea container, and then go on to selling it to you. Things like this really make me feel like rinsing tea leaves is not a bad idea.
Rinsing tea leaves is not an exact science, and some people do it while others do not. I personally just pour some hot water over my tea leaves for around 10 seconds, prior to using them for brewing my tea. When I do this I really don't taste too much of a change in the taste of the tea. Some people say that this actually loosens up the tea and makes it taste better. Also, if you want the tea to lose some of its caffeine, then you can leave the tea in hot water for 30 seconds to one minute prior to use.
Although I rinse my tea, some people argue that rinsing tea makes tea lose some of its flavor. Many people say this for green and white teas, which are usually only infused once. I still like to rinse these teas for a few seconds though, to get dust etc. off (if it does exist, who knows…). I guess no one will really know if rinsing tea leaves actually does anything, but for me, it really doesn't sound like a bad idea.
Tags: 16 Comments